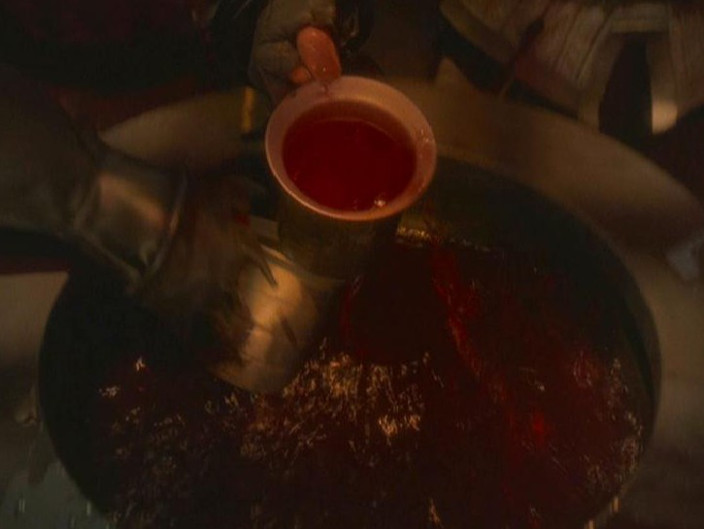 BloodWine
The drink of a Klingon Warrior, Bloodwine is so intoxicating that most non Klingons can scarcely stomach a mouthful of the fiery mixture. Klingon officers are known to carry several barrels of their favourite vintage to celebrate victories.

To make your own Bloodwine take a bottle of your favourite Port or Red Wine, take 1 inch of fresh peeled and sliced Ginger and some chillies, combine and leave to stand for a month if possible, serve warm or at room temperature.

Click next to see the next drink.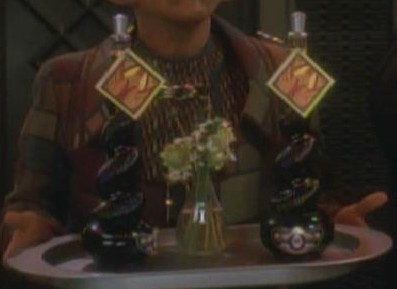 Cardassian Kanar
This beverage is the go to drink for members of the Cardassian union, it is an alcoholic beverage which varies in colour but is often black and has a consistency which is more like a milkshake than the alcoholic drinks us humans are used too!

To make your own Kanar make sure you have a way of thickening the mixture, Starch or Thick-it are some of the options. You will likely need to experiment with measure so don't go crazy first time!

Mix equal measure of Baccardi, Grand Mariner, Tequila, Gin and Vodka, using Black Sun Vodka will help you get the colour you want but you can add black food colour if needed. Add the mixture to an equal measure of Coke and add you thickener.

Click next to see the next drink.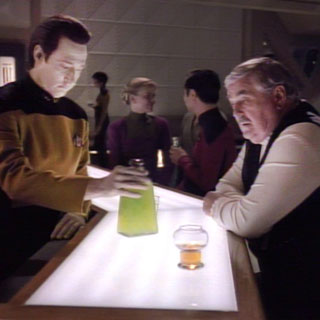 Aldebaran Whiskey
This strong green alcoholic beverage was the favourite of Guinan on TNG, Thi9s is the beverage which we saw Montgomery Scot sharing with Picard during his TNG appearance.

To make your own Aldebaran Whiskey grab yourself a 1oz bottle of Jack Daniels ( You can use any whiskey in truth ) and add it to 1 cup of green Gatorade and 1 cup of club soda or sparkling water .

Click next to see the next drink.


Klingon Raktajino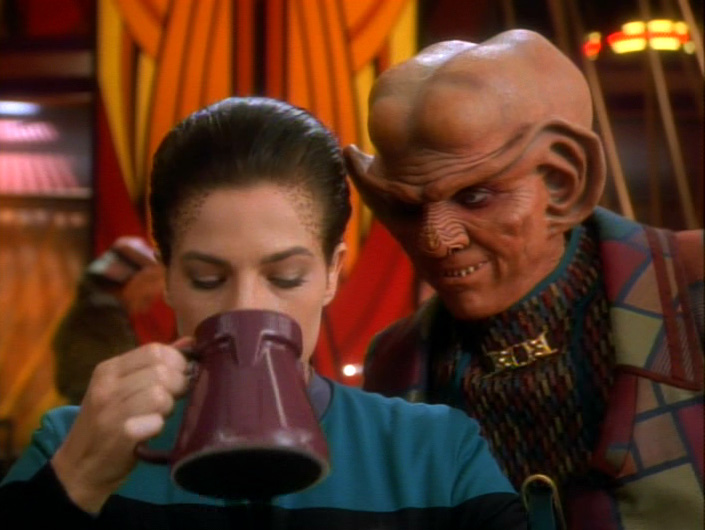 This Klingon coffee can be served steamed or iced and was very popular with the crew of Deep Space 9.

To make your own Raktajino take Espresso coffee with dashes of cinnamon and nutmeg, four cloves and Allspice pods, combine them and brew. Add powdered milk and sugar to taste.

Click next to see the next drink.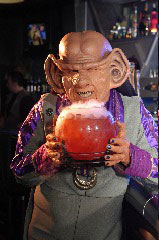 Warp Core Breach
The Warp Core Breach was a drink available from Quark's Bar on Deep Space 9, it is a large effervescent cocktail type beverage prepared in a large fishbowl which produced a thick gas from the top of the bowl, This alone was enough for Bashir to refue the drink before Quark had finished mixing it.

To make your own warp core breach cocktail Take 1 half pint of each :- Bacardi Select, Bacardi Dark, Bacardi 151, Bacardi Limon, Captain Morgan and 1 third pint of Razzamatazz Raspberry Liqueur and mix well. Add 1 part mix tp 3-4 parts Sobe Power and add ice and dry ice. Be sure to drink with a straw!

Click next to see the next drink.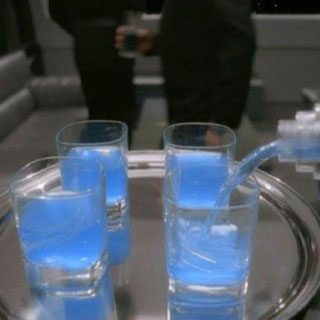 Romulan Ale
Romulan Ale has such a kick that it was long considered illegal in the Federation, this highly alcoholic drink comes in various shades of blue depending on the vintage and is the favourite drink of Romulans everywhere although they are rarely impressed with replicated versions.

To make your own Romulan Ale With High proof rum, Everclear alcohol and Blue Curaco Liquer