The Star Trek universe is just full of hot babes, from the start of this popular franchise star trek the original series through to the original series, browse through our selection of Star Trek fitties here on Fantasy Space.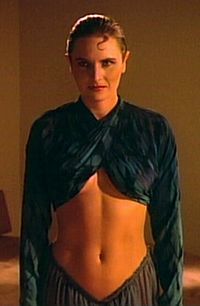 Always Feel Safe and Secure with Tasha Yar
Head of security in Star Trek The Next Generation, Tasha Yar was played by Denise Crosby. A strong powerful woman, Tasha Yar was romantically linked with Commander Data. To the dismay of many Tasha Yar was killed off, but Denise Crosby would return on a number of occasions playing Tasha Yar in an alternative universe and then later as the daughter of Tasha Yar and a Romulan officer.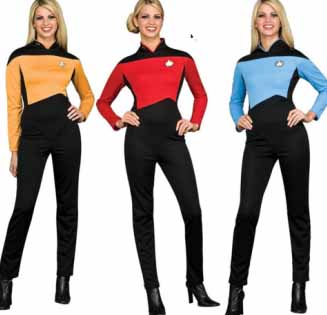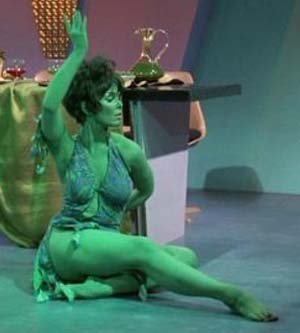 Marta - The Orion Slave Girl
What DC character did this actress also play? - Orion slave girls are renowned for their sexuality throughout the Alpha quadrant, here you see an example on an Orion slave girl from Star Trek the original series. The actress playing Marta is the beautiful Yvonne Craig who also played Batgirl.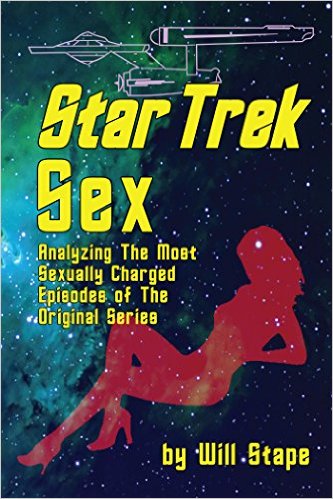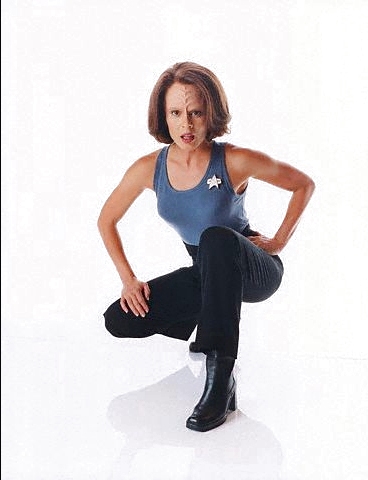 B`elanna Torres - Hot as a Warp Core
Half Klingon, half human this feisty engineer was part of the Marquis before being stranded aboard USS Voyager in the Delta quadrant where this hot star trek babe would find love with Lt Tom Paris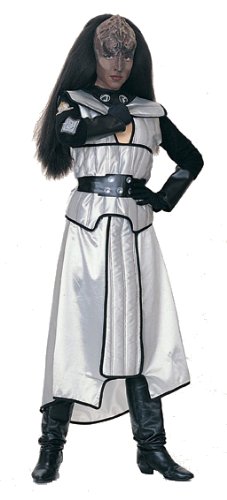 Is T`Pol The Sexiest Vulcan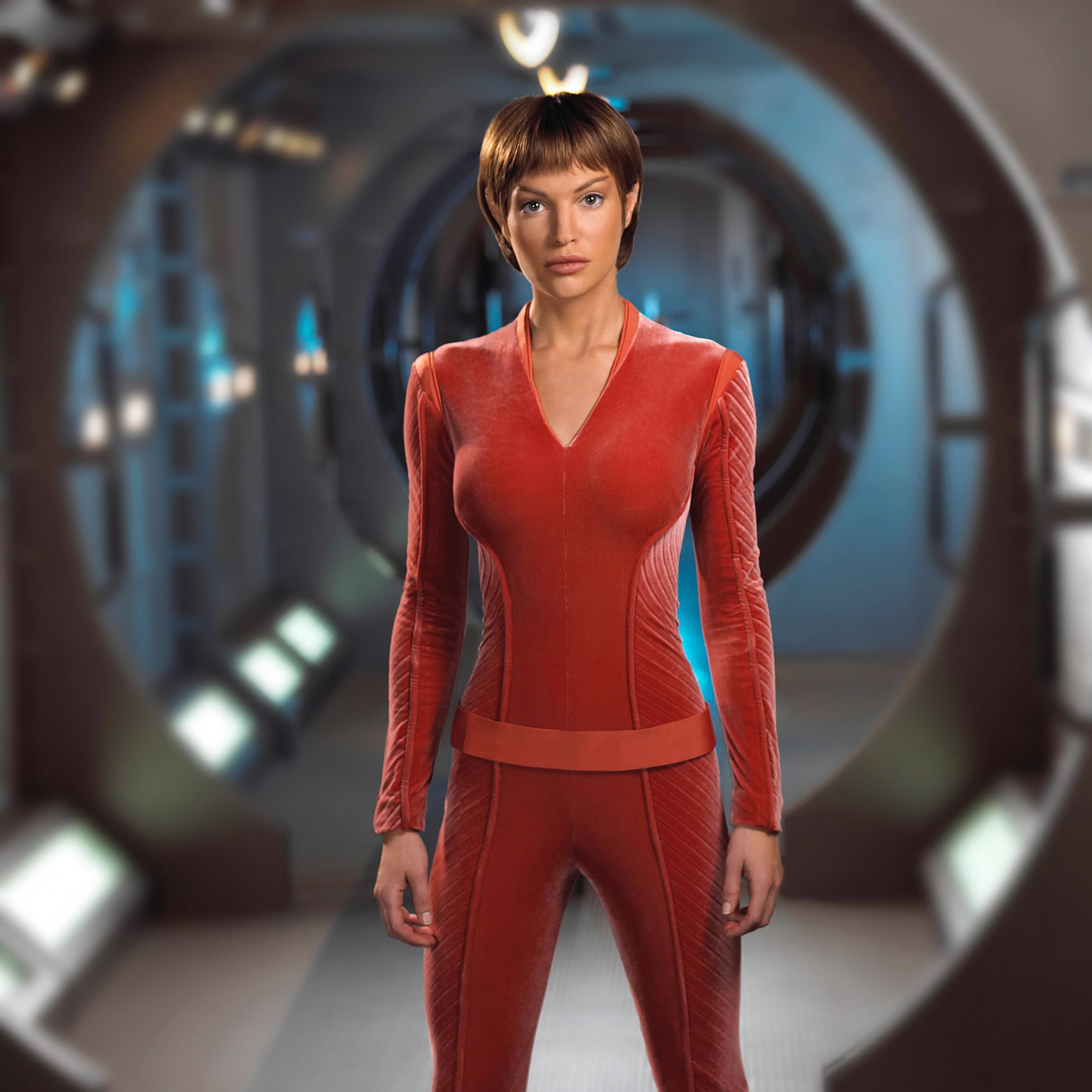 A firm fan favourite T'Pol was assigned to the Enterprise as science officer under captain Jonathan Archer, all those decontamination sessions certainly one Trips heart as the pair would enter into romantic relationship. T'Pol was played by actress Jolene Blalock who is well known in the world of sci-fi as she also featured in stargate SG1 as Ishta as well as staring in starship troopers.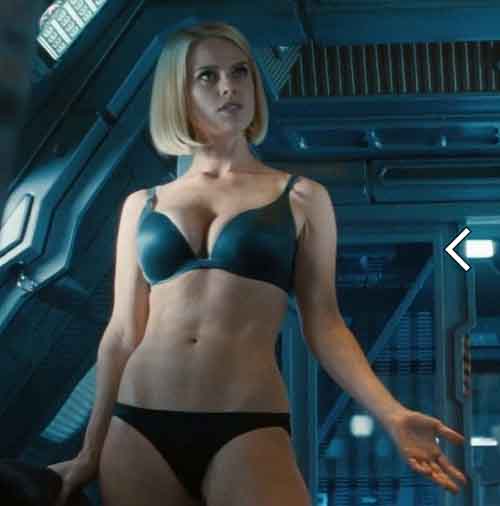 Carol Marcus - Kirk Can Pick Them
Carol Marcus is a character who featured in the original star trek movies and been brought back to the big screen in the alternate timeline reboot of the franchise. A love interest of the womanizing captain James T Kirk, she nearly has what it takes for the lovable rogue captain to settle down. Carol Marcus was originally played by Bibi Besh and more recently actress Alice Eve (pictured here).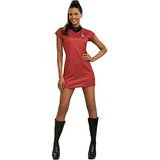 Kamala - The Perfect Woman
Developed as the perfect woman, Kamala took part in a marriage to seal a rift between two warring factions, although when the time came she imprinted herself on Jon Luc Pickard, becoming his perfect woman. Kamala was played by Famke Janssen who has gone on to star in other sci fi films, including a starring role in X-Men as Gene Gray.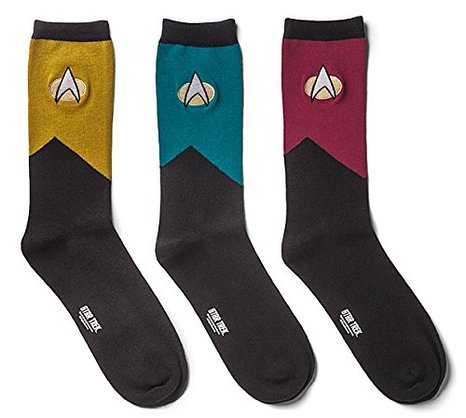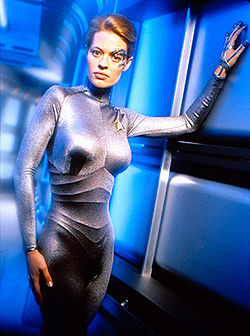 Seven of Nine - Join The Collective
The sexy Borg drone, seven of nine was of human origin who was assimilated by the Borg, liberated from the collective by the crew of Voyager, she undertook a journey to rediscover her humanity and became a key member of the crew, although it is a wonder the male crew members could get anything done with this this new sexy crew member. Seven of Nine was played by Jeri Ryan who was also Sonya Blade in Mortal Combat.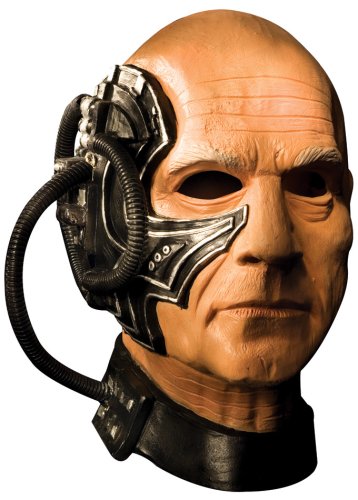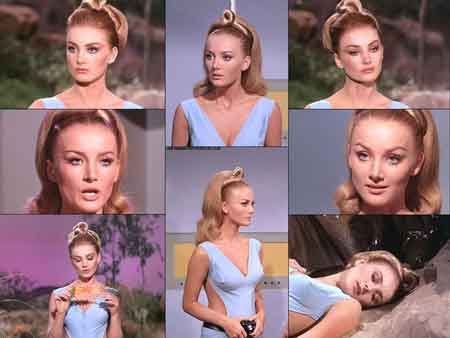 Kelinda - A Beautiful Humanoid Form
Kelinda a traveler from the Kelvan Empire in a distant empire, who chose a humanoid form that would certainly get Captain Kirk`s pulse rate going. Kelinda was played by actress Barbara Bouchet who was known for portraying Money Penny in the James Bond movie Casino Royale .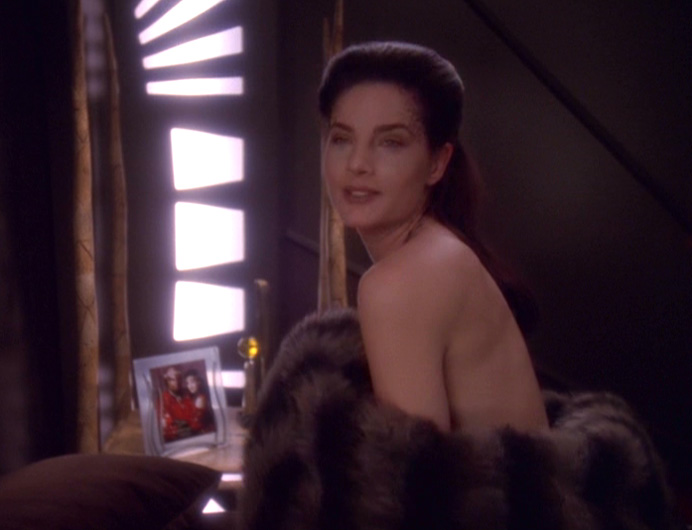 Jadzia Dax - The Old Man
The eighth incarnation of the Dax symbiote and old friend of the DS9`s Sisko, Dax was a science officer with the heart and passion of a Klingon warrior and married Worf. Jadzia Dax was played by Terry Farrell who has been in many other shows including the sitcom Becker, she has recently re apprised her role in Star Trek: Renegades.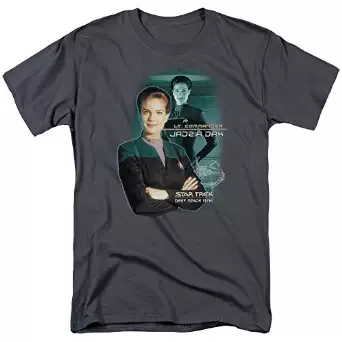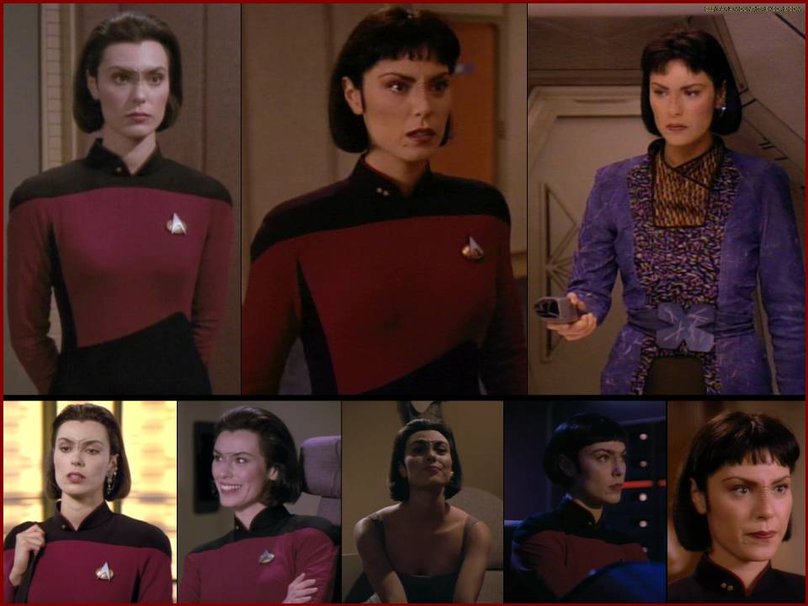 Ensign Ro Laren - Bad Girl
A girl with a checkered background Ro Laren was a Bajoran who was court marshalled and imprisoned, before given a second chance by Captain Picard when she would again disobey orders and join the Marquis against the Cardassians Ro Laren was played by actress Michelle Forbes who played Admiral Helena Cain in the Battlestar Galactica as well as being in True Blood and The Hunger Games: Mockingjay - Part 2, she also played Dara another character in Star Trek TNG before getting the part of Ro Laren.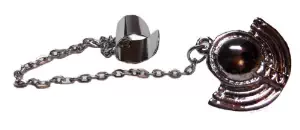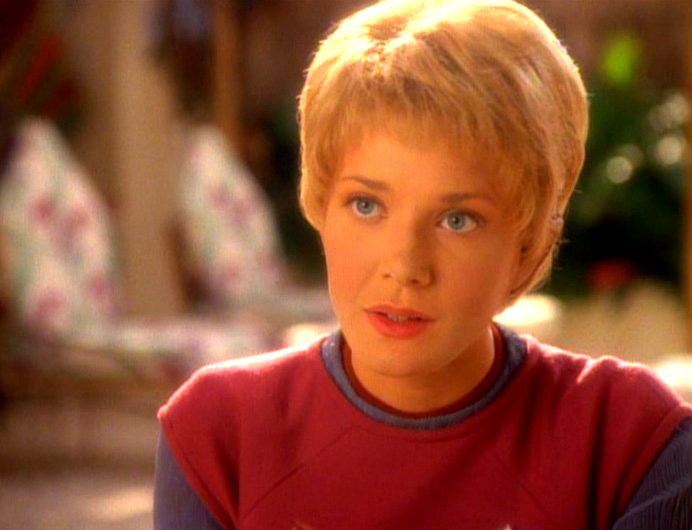 Babyface - Kes
Kes is a member of the Voyager crew, joining after being rescued in the the episode of the series, Kes is an Ocampa and only 1 years old, her race have short life spans of only around 9 years, love interest of Nelix she is also romantically linked with Tom Paris and the holographic doctor. Kes is played by Jennifer Lien who has now stopped acting.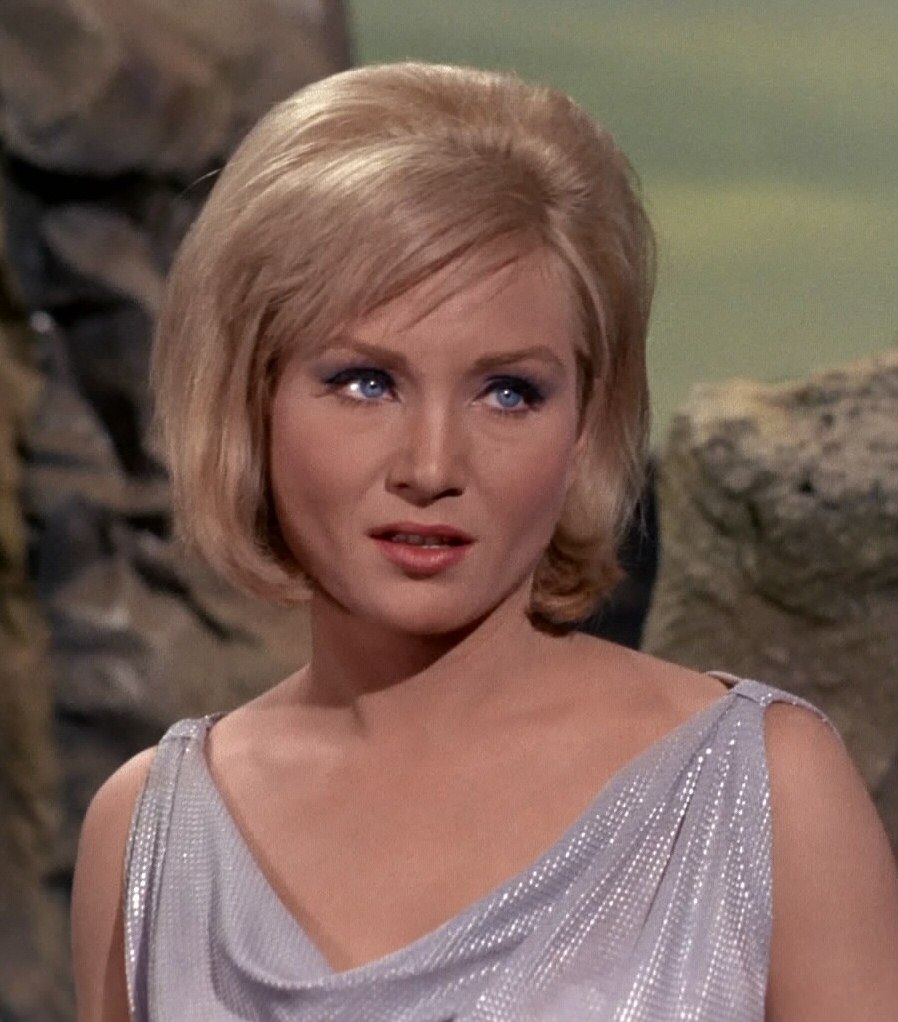 Vina- Let Me Be Your Fantasy
Vina was in the Star Trek pilot and was to be Captain Pike`s fantasy women, although in reality she was horrendously scared and damaged. Vina was played by Susan Oliver who had over 30 years experience.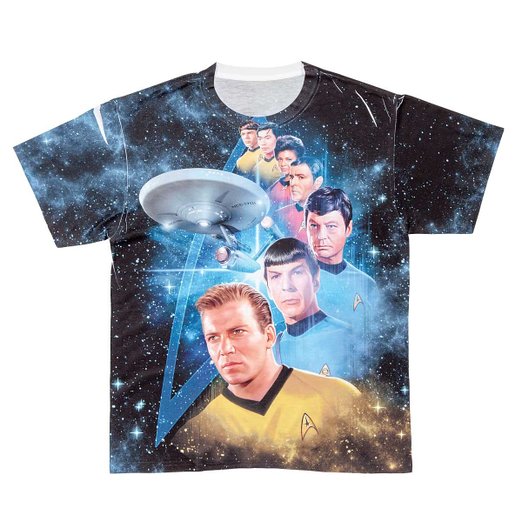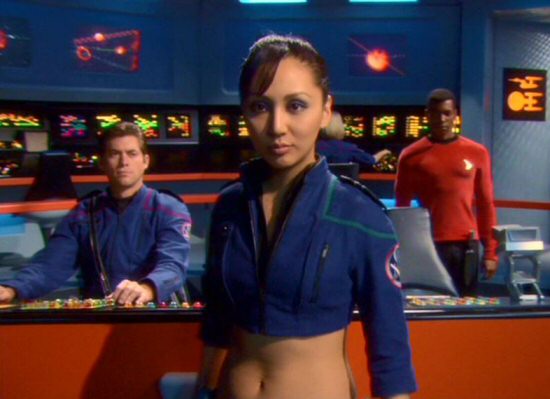 Hoshi Sato - She Knows The Language of Love
A gifted linguist Hoshi Sato was the communications officer on the Enterprise, played by Linda Park who was also in Jurassic Park III, she is also playing Captain Grace Shintal in Star Trek: Captain Pike.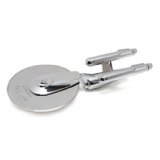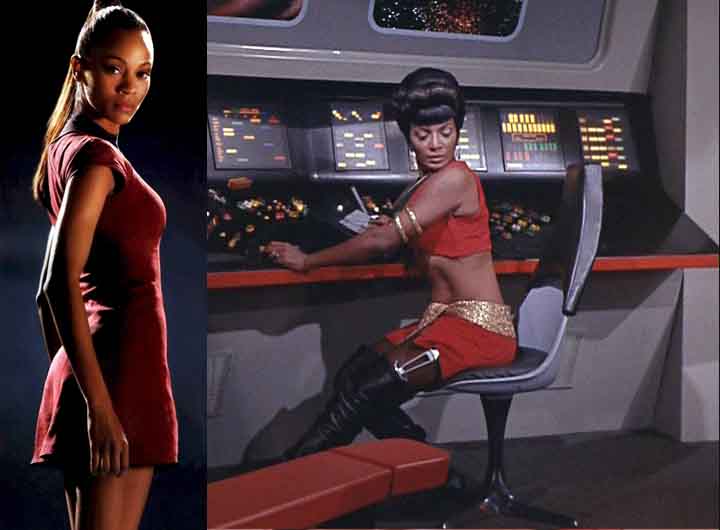 Nyota Uhura - Trailblazer
A revolutionary character Nyota Uhura was the communication officer on the Enterprise, she was a black woman in a high position aboard the federation starship enterprise, something pretty revolutionary for US TV in the 1960`s. She also had one of the first interracial kisses on network television with Captain Kirk. Nyota Uhura was played by Nichelle Nichols who has also featured in Heroes, she has also reprised her role as Admiral Uhura in Star Trek: Renegades.

In the reboot of Star Trek Uhura is played by the beautiful Zoe Saldana who is also Gamora in Guardians of the Galaxy.